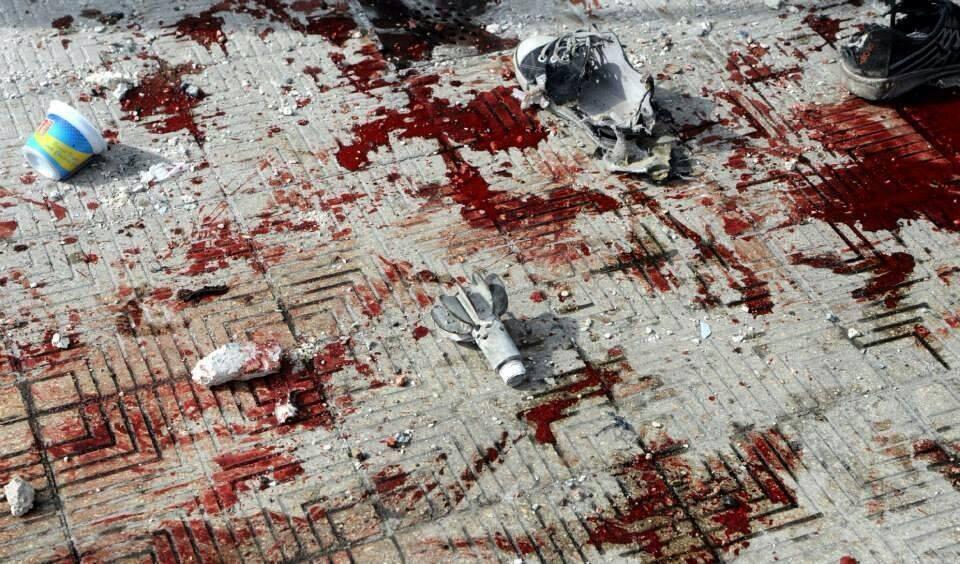 Photo of al-Manar School playground in Bab Touma, Damascus
Note: Levant Report has received multiple reports that the shelling of Christian neighborhoods in Damascus from outlying rebel positions has been constant for over the past year and has not ceased. We reported on the shelling of Damascus' largest church as Sunday services were underway last October -this being but one example of what has become a frequent occurrence. Syrian Christians believe their neighborhoods, churches, and schools are specifically targeted by rebel attacks. At the same time, the United States has increased the sophistication of weaponry it is putting into rebel hands; and this includes the necessary training needed to operate such advanced weapons.
DAMASCUS, April 15 (Xinhua News Agency) — A child was killed and more than 36 others wounded Tuesday when a mortar shell slammed into a schoolyard in a predominantly Christian district of the capital Damascus, the state news agency SANA and witnesses said.
The mortar round struck the al-Manar elementary school in Bab Touma, east of Damascus, killing a child and injuring 36 others, according to the report.
Witnesses said the mortar struck the al-Manar's schoolyard in the morning when the schoolchildren were gathering at the yard before entering the classrooms, adding some of the injured kids were in critical conditions.
Aside from the attack on Bab Touma's school, another mortar round struck near a church in the nearby Dweila neighborhood, injuring five people, according to SANA.
The attack came one day after at least 12 people were killed by mortar attacks against Damascus and a blast of a booby-trapped car in the central province Homs.
The rebels have rained down the capital and other government- controlled areas across Syria with dozens of mortar shells recently, leaving tens of civilians dead and many others wounded.
Attacks targeting at kids have made many parents refraining from sending their children to schools, especially in areas, which get hit by mortars on daily basis, like the suburb of Jaramana, where at least 36 mortar shells landed on Monday alone.
Syrian troops have recaptured several villages and towns in central Syria, cutting off main supply routes for terrorists from neighboring Lebanon. The army tightened the noose around armed groups in the countryside of Damascus and blocked several attempts to storm the capital.
The long-running crisis started in mid-March 2011 with anti- government protests, but rapidly evolved into a civil war joined by radical jihadist movements. More than 150,000 people have been killed so far.