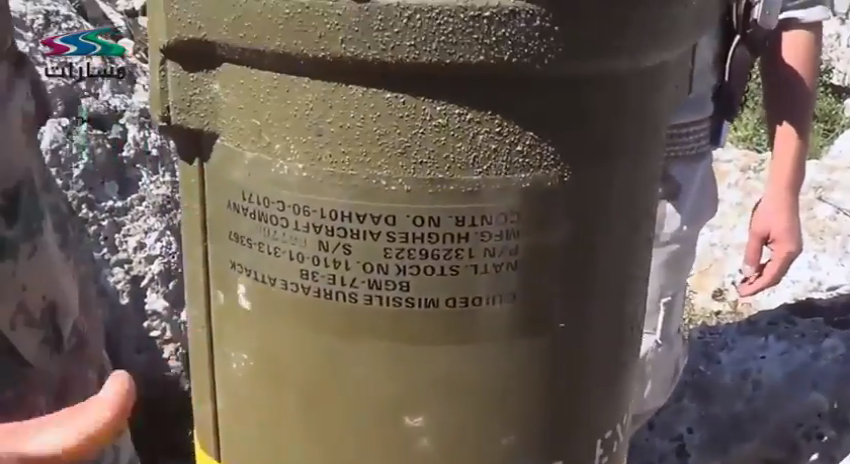 Raytheon hardware on the Syrian battlefield: "Guided Missile Surface Attack / BGM-71E-3B" – by "Hughes Aircraft Company" (now Raytheon). Notice that the serial number has been scratched off.
Charles Lister of the Brookings Institution Doha Center (a consistently hawkish think tank) has written a well researched article for The Huffington Post about the latest hot topic among Syria analysts: the presence of TOW anti-tank guided missiles (ATGMs) among rebel groups. Read the full article here.
While he only speculates as to which country or countries might be the immediate source of this high tech weapon system (there are a number of US allies that stock them),  he added an important update to his article based on what he says is a reliable source: these weapons are being supplied by Saudi Arabia, with transfers approved and overseen by the United States, and are flowing into Syria from Turkey (see Lister's update to his report below). For a recent video of Turkish security allowing armed fighters to freely pass across the border into Northern Syria, see here.
Raytheon, the manufacturer of the BGM-71 TOW (Hughes was bought out by Raytheon in 1997), has been heavily invested in the potential course of the Syrian conflict from the beginning. In late August, early September of last year, as the United States was preparing for a possible missile strike on Syria, it was the Raytheon-made Tomahawk cruise missiles that were constantly referenced as the likely preferred weapon for a strike on Syria.
It must be remembered that Stephen Hadley, Raytheon's director and former National Security Advisor to George W. Bush, made multiple appearances on FOX, CNN, MSNBC, and Bloomberg News during the height of the national debate over Syria. In all of these appearances, as well as in an influential Washington Post op-ed piece, he argued for a U.S. missile strike on Syria as a matter of national security.
In each case, Hadley was presented as an objective national security expert – it was only his role as former national security advisor that was revealed. The meticulously researched Public Accountability Initiative media study of pro-war pundits that had undisclosed ties to the defense industry has this summary statement about Hadley's multiple network TV appearances:
In each case, Hadley's audience was not informed that he serves as a director of Raytheon, the weapons manufacturer that makes the Tomahawk cruise missiles that were widely cited as a weapon of choice in a potential strike against Syria. Hadley earns $128,500 in annual cash compensation from the company and chairs its public affairs committee. He also owns 11,477 shares of Raytheon stock, which traded at all-time highs during the Syria debate ($77.65 on August 23, making Hadley's share's worth $891,189). Despite this financial stake, Hadley was presented to his audience as an experienced, independent national security expert.
The Raytheon brand is all over the report, with multiple pro-interventionist commentators having ties to the company. Hadley and others were presented as objective "experts," yet by all appearances they were just going for a big payday.
From Charles Lister's update to his article "American Anti-Tank Weapons Appear in Syrian Rebel Hands":
"Since the writing of this article, a consistently reliable source has provided – on condition of anonymity – some potentially very interesting details as to the source of these BGM-71 TOWs. This source, citing an eyewitness at a border crossing between Turkey's Hatay province and Syria's Idlib governorate claims he witnessed "7 vans" containing BGM-71 TOW ATGMs being delivered into Syria between 0200 and 0400 on 6 March 2014. This border crossing, the source says, was controlled by the Islamic Front, whose fighters waved the vehicles through, after which the weapons were delivered to Harakat Hazm. Crucially – and it must be emphasised that there is no way to corroborate this claim – the TOWs were "sent" by Saudi Arabia, who the source described merely as "an agent", perhaps suggesting the involvement of additional foreign states.
At the time, the missiles and their launchers were intended to bolster ongoing heavy fighting in Aleppo city's Sheikh Najjar district, although for an unknown reason, they remained in Idlib and only began deployment into fighting in Heesh in late March and early April. Nonetheless, now that they are on the battlefield, the source claims their provision to Harakat Hazm – deemed a more reliable option that the unpredictable Jamal Maarouf and his SRF – was intended as a "test" (more missiles may be provided if their use proves effective). This may lend some explanation to an unusual video released by Harakat Hazm on 10 April showing Wael Ali Bakour announcing that he had personally fired one TOW missile during the Sada al-Anfal offensive in Heesh, which destroyed a T-62 tank. Furthermore, another filmed TOW missile attack from the same area was released shortly afterwards. This detailed video coverage of Harakat Hazm's TOW missile use is likely intended as a 'check list' of sorts, detailing each missile's use in combat.
The arrival of these missiles in Syria has attracted considerable attention, particularly considering the potential knowledge or even indirect involvement of the US. As such, further investigation will be necessary to determine if this source's information is reliable."